Contact Info
Adam P. Hitchcock
Canada Research Chair
in Materials Research
CLS-CCRS
B.I.M.R
McMaster University
Hamilton, ON
Canada L8S 4M1
V: +1 905 525-9140
&nbsp&nbsp&nbsp&nbspx24729
F: +1 905 521-2773
E:
U: __________







_____________

&nbsp&nbsp
| | | | | |
| --- | --- | --- | --- | --- |
| | | | | |
X-ray Microscopy and Atomic Force Microscopy of PS-PMMA blends
WHO: Adam Hitchcock, Cynthia Morin, BIMR, McMaster University;
Harald Ade, NCSU

WHERE: Advanced Light Source BL 7.0 Scanning Transmission X-ray Microscope (STXM)

WHEN: October 2000 POSTED: 04 Dec 2000 (update 15-Apr-02)

WHAT: Phase segregation in copolymer blends of polystyrene (PS) and polymethylmethacrylate (PMMA) has been studied using Scanning Transmission X-Ray Microscopy (STXM) to probe the bulk structure, and Photoemission Electron Microscopy (PEEM) to probe surface structure. Chemical maps of a 60+/-5 nm thin film of a 30:70 (w/w) PS-PMMA blend have been derived from PEEM and STXM C 1s image sequences. These are compared to atomic force microscopy (AFM) height and phase images in the figure. Both PEEM and STXM indicate the continuous phase is PS, not the majority PMMA component. The evolution of the bulk with annealing is clearly visualized by STXM.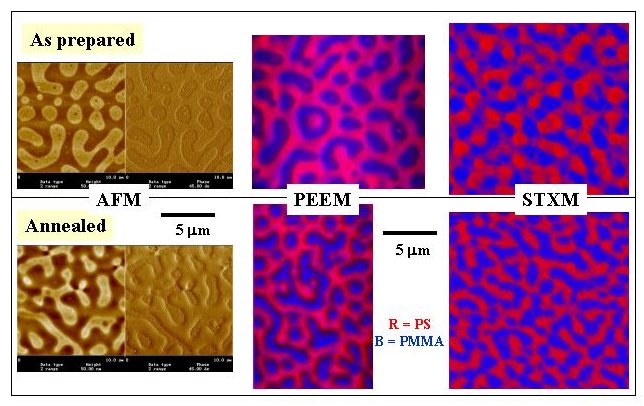 RFERENCE: Morin et al. J. Eelctron Spectrosc. 121 (2001) 203
WANT FURTHER INFORMATION ? CONTACT Adam Hitchcock

| | | | | |
| --- | --- | --- | --- | --- |
| | | | | |
© 2002 A.P. Hitchcock / McMaster University - All Rights Reserved
web site by Christopher Amis. Last updated on 04/23/2002 (aph)