Contact Info
Adam P. Hitchcock
Canada Research Chair
in Materials Research
CLS-CCRS
B.I.M.R
McMaster University
Hamilton, ON
Canada L8S 4M1
V: +1 905 525-9140
&nbsp&nbsp&nbsp&nbspx24729
F: +1 905 521-2773
E:
U: __________







_____________

&nbsp&nbsp
| | | | | |
| --- | --- | --- | --- | --- |
| | | | | |
Environmental Studies with STXM (2)
WHO:
Adam Hitchcock
, Tohru Araki, Chemistry, McMaster University
Gary Leppard, Biology (McMaster), National Water Research Institute (Burlington)
John Lawrence, National Water Research Institute (Saskatoon)

WHERE: Advanced Light Source BL5.3.2 and BL 7.0 Scanning Transmission X-ray Microscope (STXM)

WHEN: March 2002 POSTED: 23 April2002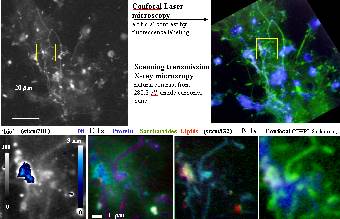 WHAT: Environmental chemists are researching biofilms (symbiotic baceterial-algae colonies) as a means of environmental remediation. These systems can have a high affinity for pollutants such as metal ions and toxic organic compounds. Previous work on the 7.0.1 STXM showed that the biological components could be mapped and the metal pollutants also mapped at high ppm levels, but, prior to the work in March 2002, the measurements had not been made on the same area. By using two X-ray microscopes at the ALS (in order to cover the Ni 2p, C 1s and N 1s regions) we have been able to map biological components and Ni in exactly the same region as mapped by optical and confocal microscopy. This correlative microscopy will help us better understand these complex systems, and potentially improve them for environmental remediation applications.
OTHER INFORMATION: Biofilms (1)
| | | | | |
| --- | --- | --- | --- | --- |
| | | | | |
© 2002 A.P. Hitchcock / McMaster University - All Rights Reserved
web site by Christopher Amis. Last updated on14-Sep-2003 (aph)