X-RAY MICROSCOPY of ' TREE-RING' LATEX PARTICLES
WHO:
Adam Hitchcock
,
Harald Stöver
, Yew-Meng Hing, BIMR, McMaster
Harald Ade
, NCSU
WHERE:
Advanced Light Source
BL 7.0
Scanning Transmission X-ray Microscope (STXM)
WHEN:
23 Dec 1998
POSTED:
18 Jan 1999
WHAT:
A focussed 50 nm beam of highly monochromatic and tunable X-rays is used to make an image of a slice of a latex sphere only 100 nm thick. By varying the X-ray energy the chemical species can be identified and quantified.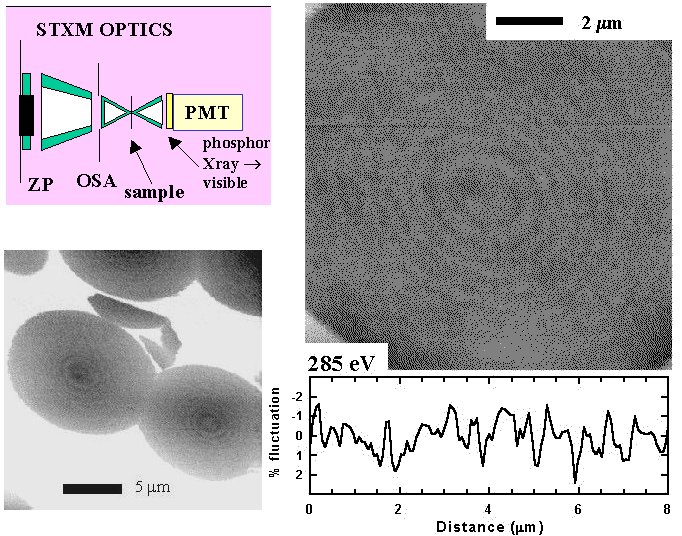 Selective energy images of a structured latex particle prepared by a single step synthesis. The 'tree-ring' structure,which is detected only at 285 eV, is associated with variable composition arising from oscillations in the polymerization reaction of the mixed, styrene, chloro-styrene system. Difference in the absorption ON versus OFF rings is only 2%.
WANT FURTHER INFORMATION ? : CONTACT
aph@mcmaster.ca
© 2002 A.P. Hitchcock / McMaster University - All Rights Reserved
web site by Christopher Amis. Last updated on 04/23/2002 (aph)