Contact Info
Adam P. Hitchcock
Canada Research Chair
in Materials Research
CLS-CCRS
B.I.M.R
McMaster University
Hamilton, ON
Canada L8S 4M1
V: +1 905 525-9140
&nbsp&nbsp&nbsp&nbspx24729
F: +1 905 521-2773
E:
U: __________







_____________

&nbsp&nbsp
| | | | | |
| --- | --- | --- | --- | --- |
| | | | | |
Mapping b-sheet distributions in dragline spider silk
WHO: Adam Hitchcock, Daniel Hernández Cruz, BIMR, McMaster University;
Marie-Eve Rousseau, Michel Pézolet, Université Laval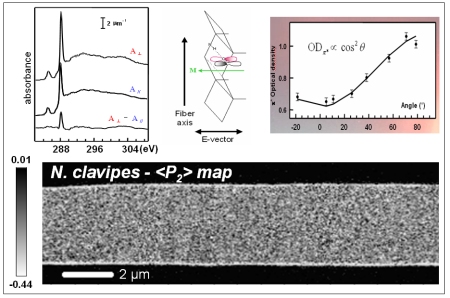 WHERE: Advanced Light Source BL 5.3.2 Scanning Transmission X-ray Microscope (STXM)

WHEN: spring 2006 POSTED: 08 December 2006

WHAT: The linear dichroism (polarization dependence) of the C 1s to p*(peptide) transition in the silk protein of silk worm and spiders has been measured at high spatial reoslution with STXM. The angle dependent intensities are converted to maps of the spatial distributions of the ß-sheets in the silk fibers. The ß-sheet crystallites act as reinforceing elements and thus help control the strength and elasticity of the fiber. We are usng STXM and micro-Raman to help unravel the spider web, with the ultimate goal of assisting efforts to make synthetic materials with similar properties.
REFERENCE: Hernández Cruz et al, Biomacromolecules, 7 (2006) 836; Rousseau et al, JACS 129 (2007) 3897-3905.
WANT FURTHER INFORMATION ? Contact Adam Hitchcock
| | | | | |
| --- | --- | --- | --- | --- |
| | | | | |
© 2007 A.P. Hitchcock / McMaster University - All Rights Reserved
web site design by Christopher Amis (2002). Last updated on 19 Nov 2007 (aph)